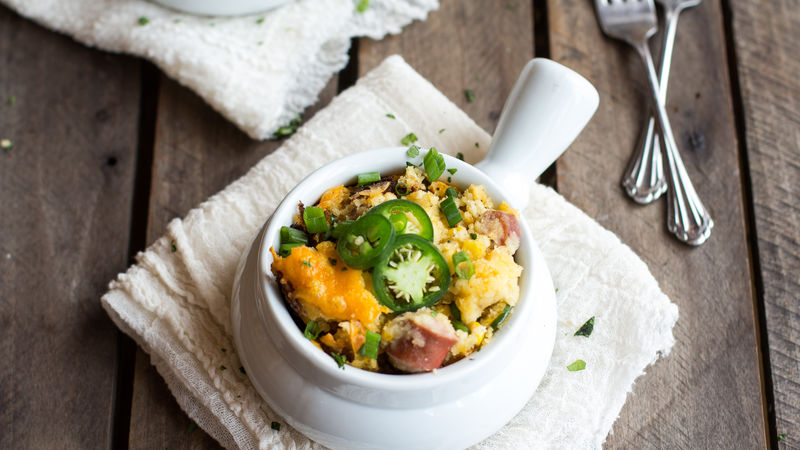 Prep 

10

 

MIN

Total 

4

 

HR

 

0

 

MIN

Servings 

4
The beloved corn dog is given a new look and taste courtesy of your slow cooker. Ingredients like Bisquick, hot dogs, jalapenos, corn and cheddar are slow cooked to a cheesy casserole.
Ingredients
2 jalapeno chilies, if desired
2 cups Original Bisquick™ mix
1/4 cup packed brown sugar
1/4 teaspoon onion powder
1/4 cup salted butter, melted
8 regular size hot dogs, chopped into bite-size pieces
1 can (15 oz) whole kernel sweet corn, drained
1 1/2 cups shredded sharp Cheddar cheese (6 oz)
Steps
1 Spray 6-quart slow cooker generously with cooking spray, or grease with oil.

2 Chop and seed 1 jalapeno Chile, and slice and seed the other jalapeno Chile into rounds. Set aside.

3 In large bowl, mix Bisquick mix, cornmeal, brown sugar, onion powder and pepper. Add butter, buttermilk and egg. Stir until combined. Stir in hot dogs, drained corn, 1 cup of the cheese and 1 chopped jalapeno.

4 Spoon into slow cooker. Cover; cook on High heat setting 3 to 4 hours or Low heat setting 5 to 6 hours or until toothpick inserted in casserole comes out clean. (I cooked mine on Low 5 1/2 hours, and it came out perfect.)

5 Just before you are ready to eat, heat broiler to high. Add remaining cheese and sliced jalapenos to top of casserole. Remove ceramic bowl from slow cooker base, and place under broiler about 1 minute to melt cheese (watch closely!).
© 2018 ®/TM General Mills All Rights Reserved